Bob Menendez
from Sunset 44 Bistro
Posted: 07/2/2013


BIO:

Bob Menendez has owned Sunset 44 Bistro since 1986, but he's been working in restaurants virtually his entire life. At age 59, he's been a trend-setter and trend-spotter for decades.
Growing up in south St. Louis, Menendez worked with his parents at the old Pilot House Kitchens restaurants. "All of the Pilot House Kitchen restaurants started on the South Side," he recalls. "Back in the day all of the school picnics used to have carnivals, and we'd provide the food for almost every single one of those picnics. We catered with fried chicken, and we had the best fried chicken in town."
Menendez learned by doing at those Pilot House Kitchens. "I cooked hamburgers and ribs, butchered meat, washed dishes. I did it all," he says in recollection. "That's how it works when your parents own a restaurant."
His parents eventually retired and moved to Texas, and by 1972 the Pilot House Kitchens were gone. Bob stayed in town and took a job as general manager for the Robert E. Lee Riverboat on the Mississippi River moored near downtown St. Louis, where he worked for seven years.
"It was a busy place back then," he says. "There were three and four-hour waits to be seated in our restaurant. We had a seafood deck and beef deck with different cuts of steaks and meats, and banquet rooms above that."
Menendez made one more stop before striking out on his own, signing on as general manager for Schneithorst's Hofamburg Inn for three years.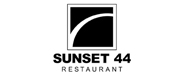 PHILOSOPHY:

Bob believes that setting up operations in the kitchen is the first and best way to organize a restaurant. "Places like Schneithorst's are high-volume restaurants," he says. "You always have to go to the kitchen first. That's where your money is, so get it organized first. I spent most of my first three months at Schneithorst's working in the kitchen, preparing recipes, cooking and (ensuring) proper cleaning procedures."
Because the kitchen is so vital to a restaurant's success, "you need to show them that you know how to cook, and gain their confidence. Then you start working on the front of the house, already having the cooks on your side."
In March of 1986 Bob and his wife Beverly bought Sunset 44, which already had been operating for 25 years, from his friend Pete Nicolaisen Jr., son of the original owner. "At first I didn't make any changes," says Bob. "We kept everything the same for about nine months and observed the customers. We noticed that people wanted something quicker and not quite so fancy."
Bob and Beverly decided to call their restaurant a bistro after European establishments. "A bistro is a place known for good food and a friendly neighborhood setting, from World War I in France," says Bob. "It's not over-complicated food but quality food served in an atmosphere where people know you."
Menendez refers to his restaurant as featuring "eclectic American cuisine." The Sunset 44 Bistro web site describes this as "American cooking (that) continues to transform along with the many nationalities and cultures that have made this country their home."
To that end, he says, "we change our menu about 10 or 12 percent six or seven times per year, depending on what's selling and what isn't. Last year we did more Asian foods like the Mongolian pork chop. This year we're preparing more Latin American dishes, such as wild mushroom and onion quesadilla, fish taco avocado."
Menendez is a firm believer in continuing education and in supporting culinary institutes. Sunset 44 is the only restaurant in the State of Missouri certified by the U.S. Labor Department, the Missouri Labor Department and the American Culinary Federation to train chef apprentices in a three-year progra