Jack and Jan Yacovelli
from Yacovelli's
Posted: 06/6/2013


BIO:

Yacovelli's has been synonymous with fine Italian dining in the St. Louis area for nearly a century. Now in their fourth generation of family ownership, the Yacovelli clan would love to see their namesake establishment thrive for another century.
It all began in 1919 when John Yacovelli, who had emigrated from San Salvatore, Italy to St. Louis, opened his first restaurant by Saint Louis University. John Yacovelli and his wife Filomena operated Yacovelli's at a number of locations from 1919 to 1951.
Before John retired, his son Dewey opened his own Yacovelli's restaurant. Then, their son Jack and his wife Jan joined the restaurant operations at that location before moving Yacovelli's across the parking lot to 407 Dunn Road, where it remains to this day.
In addition to being a major player on the local dining landscape for nearly a century, Yacovelli's has made national history as well. "Dewey had a salad bar before anyone else in America," says daughter-in-law Jan. "The front part of the restaurant in the 1950s had a large piece of plexiglass, and customers could see a gourmet salad bar, much more besides lettuce. It was a different kind of salad experience."
Yacovelli's does a thriving business, open Tuesday through Sunday. "Some of our favorites include our family-style fried chicken on Sundays," Jan says. The family-style meal includes our fried chicken, which is prepared with special breading and deep-fried to a golden brown.
Other dishes available are baked chicken, catfish and roast beef." Yacovelli's adds pickled beets and cole slaw to the feast as well as mashed potatoes and gravy, green beans and baby carrots.
"Customers also love the filet Yacovelli," adds Jan. "That's a tenderloin steak rolled in cracked black pepper, topped with Roquefort and our own special mustard sauce."
Jack Yacovelli shares chef duties with Brian Lightle, an executive chef who has been with Yacovelli's for 10 years. Their many specialties include eggplant parmesan and grilled asparagus, while desserts range feature fan favorites such as homemade banana cream pie and spumoni.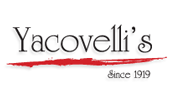 PHILOSOPHY:

Yacovelli's also has a catering division that is a significant part of the family's income, says Jan. "Banquets can accommodate up to 400 guests and are very important to our business, perhaps 55 percent of overall revenue. We like to have our family taking care of yours for special events such as birthdays, graduations, rehearsal dinners and wedding receptions," she says.
While all five of Jack and Jan's children have worked at the restaurant, their youngest son Joe has made a career of it and takes his job very seriously. "Joe is the manager of the restaurant now," says Jan. "He has two degrees from Saint Louis University and used to say that he never wanted to work at the restaurant. But when he graduated, he (changed his mind and) wanted to go into the family business. He has great ideas and has brought wonderful innovations to the restaurant."
Since Joe won't be 30 years old until October, it sounds as if Yacovelli's will remain a popular fixture on the St. Louis dining landscape for decades to come.