Rich LoRusso
from LoRusso's Cucina
Posted: 05/1/2013


BIO:

Before Rich LoRusso was born, his grandparents emigrated from Sicily and settled in St. Louis. His grandfather brought with him from the old country the talent for making his own beer and wine, which he would serve at the family dinner table and for get-togethers.

LoRusso started his career at Godfather's restaurant in 1977. "You move up pretty quickly in the restaurant business if you have ambition," he says. "I was cooking, and at age 18 I met my wife Terri, who was 15 years old and working there as a busgirl."
Rich and Terri married in 1982. "I wound up at the Mayfair Hotel as executive chef," says Rich. "That was a table-side type of place, servers in tuxedos, meals prepared on burners at the tables. We served steak Diane, French and Italian cuisine and seafood such as clams and frog legs. It was big exposure for me at a high-end kind of place."
After returning to Godfather's as chef for a couple of years, Rich and Terri opened their own place in 1986. "We started out on Hampton," he recalls, "and then moved to our present location on Watson Road in 1989."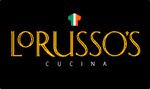 PHILOSOPHY:

Socializing with his customers is an integral part of the business, Rich believes. "Having the owner be in the kitchen makes a difference to people for their overall experience," he says. "People trust us with their seafood here. Our biggest-selling dish, though, is our Tenderloin Mudega. Our customers consider that to be our benchmark."

LoRusso points out that the Italian fare diners experience at his restaurant is different from what they might have elsewhere. "We are not your usual Italian food, or rather St. Louis Italian," he says. "We have a Sicilian influence, lighter olive oil used in marinating. Our grilling sauces are lighter, too."
Menu items are shuffled a couple of times each year. "About 80 percent of our menu stays the same," he says. "Our appetizers change the most."

Always keeping his eyes open for new trends, LoRusso says that he and Terri "had an open kitchen 27 years ago, something that wasn't done back then. We were also baking our own bread and trying out all sorts of recipes."

Their latest venture is an Italian-style Sunday brunch. "We had always been open on Sunday. Just recently, though, we decided to offer a brunch selection," he says. Now, Sunday, which formerly consisted of a 3 p.m. to 9 p.m. shift, "has turned into a 14-hour day."