Aaron Teitelbaum
from Herbie's
Posted: 02/6/2013


BIO:

Food prepared at Herbie's is an eclectic mix of Balaban's old recipes and ones developed by the present owners. "Recipes are a combination of our entire team," says Aaron. "I have an executive sous chef, a sous chef and a full line of people. So, the way our menu is created is a combination of traditional items that were served by Herbie Balaban, our creations and the specials that are prepared here weekly."
Obviously, that results in a lot of activity in the kitchen. "We have an extensive group of menus here," says Aaron. "We have a bistro menu, a dining room menu, a gluten-free menu, a vegetarian menu and a brunch menu. That's quite a few, and they all are bold. We serve more than 60 different items each week."
At the top of the customers' favorites list are some familiar dishes. "We do a beef wellington that was always served here," says Teitelbaum. "Some items that are our specialties include firecracker shrimp and shrimp dumplings. Also among our customer favorites are coriander and sesame-encrusted tuna, as well as our boneless braised short ribs."
Teitelbaum says that the menus are altered throughout the year. "Our menu s change four times a year," he says. "For February our menus include a traditional coque au vin, a red wine-braised chicken thigh. Short ribs come out for the winter season as well as our wild mushroom, bread pudding stuffed quail."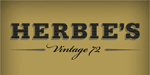 PHILOSOPHY:

Offerings at Herbie's truly are a blend of Balaban dishes and creations of the present staff, observes Aaron. "I'd say the menu is 60 percent ours and 40 percent traditional items from the original Balaban's at this point."
Teitelbaum grew up the son of a physician father and a mother who was an attorney. "I worked for Mark Erker at Catering St. Louis," he recalls, "who got me involved in the business. Erker recommended that I go to the Culinary Institute of America, so I did. Later I trained with renowned chefs Bobby Flay and Daniel Boulud. Daniel was my true mentor while I was in New York."
Tradition is huge for many regular customers at Herbie's, according to Teitelbaum. "We have a lot of regulars who grew up here. I moved back from New York in 2003 and opened Monarch with Jeff.
"In 2008 we had decided we would expand and had been looking throughout town," continues Aaron. "Growing up here, we both had fond memories of the original Balaban's. When we were looking, this had been closed for a year. It kind of came into our mindset that it was available, and we thought it would be neat to bring it back to its old glory."
Teitelbaum notes that Herbie's relies on a combination of methods to find foods for its recipes. "We do an enormous volume," he points out. "So, if it's something local farmers can provide we'll purchase it. We use a lot of different vendors. Some of them are local, but some of the larger companies ship produce into warehouses. However, we do as much local sourcing as we possibly can."
The new selections that Aaron and his staff devise come from a variety of sources. "We do market research," he notes, "and we do follow trends. But we have a lot of history here. We believe in the classics. I'm classically French trained myself.
"We do twists on things, but I learned from the old classic guys. And we believe in grandma's cooking. We do it for 300 people a night."