Chef Andrew Shrensker
from Jim Edmonds Steakhouse
Posted: 12/4/2012


BIO:

Getting a good dinner at Edmonds Steakhouse is as reliable as its namesake, fabulous former Cardinals' star Jim Edmonds, chasing down a line drive or a soaring shot by an opposition hitter into the vast expanse of center field. Executive chef Andrew Shrensker sees to that.
Shrensker, who also serves as wine director at the restaurant, and his colleagues work hard to keep visitors to the Steakhouse pleased with their menu selections. For his part, Andrew wears many hats in the course of his day. "I do everything from ordering inventory to menu development," he says. "I handle the staffing needs and also help with the front of the house, along with purchasing wines and arranging wine pairings for customers."
Although a wide variety of entrees is available at Edmonds Steakhouse, the basics are among the house favorites, says Andrew. "Obviously, our steaks are quite popular," he says. "We use the same meats as those at Gibson's Steakhouse in Chicago, a very famous steakhouse. Also, our salmon is from Skuna Bay, Vancouver Island, Canada. It's sushi grade and a very high quality."
Of course, there are some more experimental dishes that also have proven popular with guests. "We have a corn tortellini dish with celery, onions and carrots sautéed," says Andrew. "We add fresh herbs, then the tortellini is cream corn filled and is on a bed of the sautéed vegetables, served with butter sauce and toasted hazelnuts."
Another signature dish, he adds, is the calamari. "Our calamari is dusted in semolina flour. It's fried and has kind of a spicy butter sauce, with pepperoncini, onions, a little bit of chili flakes. It isn't traditional, it's totally different."
Shrensker graduated from Johnson & Wales University in Providence, RI, with a degree in culinary arts. He honed his craft by working at numerous restaurants throughout the country, including many seafood and Italian establishments. He served as pastry chef at Oakley's Bistro in Indianapolis and was an executive sous chef at Forest Hills Country Club in St. Louis County.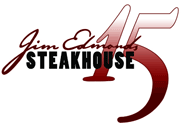 PHILOSOPHY:

Given the name of the restaurant, it's no surprise that the most popular items at Edmonds Steakhouse include a center-cut, 8-ounce filet, as well as salmon. "Also, whatever seasonal specials we do tend to sell well," says Andrew. "We're getting ready to do a spinach salad with roasted butternut squash, Granny Smith apples, smoked Gouda cheese, toasted pecans and balsamic maple vinaigrette. We also do seared scallops with broccoli cheddar polenta, crispy prosciutto and roasted red pepper sauce that are highly popular."
While Shrensker was trained as a chef, he has come to love his wine responsibilities. "I've been in the food business for 17 years," he says, "but the last five years I've also been involved in wine. I just passed my first sommelier test. I really enjoy the wine part of what I do. I was hired as a chef but took on the wine aspect because I love it.
Shrensker has a somewhat different philosophy when it comes to wine at Edmonds Steakhouse. "I do weekly tastings with my purveyors," he says. "I bring in what I like and sell it. We don't have a high markup on wine like a lot of restaurants have. We're in the business to sell wine, not to age it. I want to have a product that's going to sell, keep it at a fair price point and make it approachable for the customer now."
So how exactly did Andrew Shrensker, a native of Louisville, become interested in being a chef, anyway? He laughs when he responds, "My mom is a great baker, but not really a good cook. I knew food needed to taste better.
"My dad was my biggest inspiration," he adds. "He traveled a lot as a businessman, and he'd tell me about great restaurants he would visit. Later on I entered a recipe contest and won a partial scholarship. That was my start."