Bethany Budde
from SqWires Restaurant
Posted: 10/2/2012


BIO:

SqWires prides itself on "seasonal menus that feature fresh interpretations of classic American cuisine," according to its web site (www.sqwires.com). And where did its executive chef get her extensive training? It all started "when I was a Brownie," says Bethany with a laugh. "We had cooking patches that we got in grade school, and that's what got me started. Also, my mother Patricia is an awesome cook. She made us kids take turns doing dishes or cooking, but I always bribed my brothers and sisters so that I could do the cooking instead of dishes."
Bethany grew up in Michigan north of Detroit, where her mother and stepfather lived, while her dad and stepmother lived in Traverse City, Michigan. "We were originally from St. Louis," she says. "My mom and stepdad moved back here in 1987. Now, four of the eight kids live in St. Louis again."
While learning her cooking craft from her mother and grandmother, Bethany learned the business of a restaurateur from her mentor, John Geers. "He was the owner of the Webster Grill and Café," she says. "I had a knack for numbers, and I learned all of my administrative skills, such as labor costing and food costing, from John."
Bethany's husband, Tom, is an architect by trade but also contributes to the success of SqWires. "He was the founder of our oyster bar on Friday nights," she says, "and he also prepares all of our smoked meats and fish."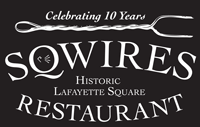 PHILOSOPHY:

Those items are among the most popular at the restaurant with its loyal customer base. "Our 12-hour, smoked beef brisket is hugely popular," notes Bethany. "Now, of course, we're getting into fall, so our meatloaf is back and our chicken pot pie is back as well as some awesome specials. For example, every Tuesday night we have a special called Squared Plates, little entrée plates that are $5 each or five for $20. They range from pork tenderloin to fresh seafood to tempura fried okra.
"On Thursdays in the fall and winter we serve family-style buttermilk fried chicken with all the fixings," adds Bethany. "Plus on Fridays we have our oyster and shrimp bar from 5 to 7 p.m. in the bar for one dollar each."
Despite that elegant name, SqWires prides itself on not having any entrees over $20, Bethany points out. Additionally, there are numerous options for vegetarians. "I don't eat meat," she says, "but I love seafood and vegetables. I love beets, and we do an awesome beet risotto with fresh beet puree that is pretty and pink. People love it!"
SqWires also has an extensive wine and beer selection as well as other specialty drinks. "Starting in the spring to mid-fall we prepare fresh lemonade every day," she notes. "Actually, we make lemonade year 'round, but once strawberry season starts we make strawberry juice lemonade. Then, in season, we have raspberry, watermelon and plum lemonades, or peach, blackberry, blueberry and pear."
SqWires has a simple culinary philosophy that has served it well, Bethany believes. "We're really not much of a trendy restaurant," she points out. "What we pride ourselves on is that we cook like we're at home, but step it up a notch. We use only free-range chicken and grass-fed beef with no hormones. We serve very simple foods with a gourmet twist."