Brendan Kirby
from Duffs
Posted: 06/6/2012


BIO:

Back in 1972, flower power was seeping into mainstream American culture. The hippie lifestyle that began on the West Coast spread across the country and eventually reached the heartland.
Karen Duffy and her husband at the time, Dan Duffy, were part of a group of like-minded individuals in that time of fundamental social change. While on a trip to Europe Karen was inspired with an idea for a new café and decided to open one in the Central West End. They called it Duff's, which was Dan Duffy's nickname, and hired a staff, including a bartender named Tim Kirby, who joined in 1973 and became a partner soon thereafter.
After a few years, others in the group lost interest in the business for the most part. Karen, though, remained at the helm with Tim's notable assistance. They remain owners to this day, having seen plenty of changes on the local restaurant scene over four decades.
Tim's son, Brendan, is now the general manager of Duff's and Jim Voss, who has been with Duff's for about 35 years, serves as executive chef. Like many in the restaurant industry, Brendan became involved in the family business by working his way up in a variety of jobs. "I started bussing tables in 1995 and then began waiting tables a few years later," says Brendan, who was born in 1981. "Then I took over as bar manager in 2004 and tended bar, which I still do today. A couple of years ago I became general manager as well."
Duties in the latter position are many, according to Brendan. "My responsibilities include management of a staff of 40 people, including waiters who have been here longer than I've been alive," he says with a laugh. "We have many different personalities and coordinating all of those into one consistent effort can be challenging. I run the bar, too, where we have a wine list that has won the Wine Spectator Magazine Award of Excellence a couple of years in a row."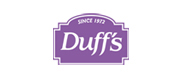 PHILOSOPHY:

Brendan says that Duff's walks a delicate tightrope in balancing long-time customer favorites with new dishes that are added regularly to its menu. "Our chicken marsala and French onion soup have been signature dishes for 40 years," he says. "A lot of people come here specifically for those items. But we change the menu seasonally and have been doing that for years.
Duff's long has been known for its brunches and its drinks. "Brunch is big here on the weekends," adds Brendan. "We're famous for our Bloody Mary, which is made from scratch with a Pickapeppa-style sauce. For dinner we have the Duff's Manhattan, a rye Manhattan in which we use a couple of signature bitters and Italian vermouth with a flamed orange peel. We also have a nice selection of local draft beers and some harder-to-find bottles to help encourage the idea of pairing great beer with great food."
Back in the day Duff's began a series of poetry readings to contribute to the cultural vibe of the Central West End. "We had live music, too," says Brendan. "We have always supported the local arts community with cultural ventures. We still do poetry readings twice per month. Our River Styx series, which features more established poets, has been performed on the third Monday for 25 years. On the fourth Monday we have Chance Operations, which showcases a younger group with an open mic format."
It's a well-known story that Duff's presently is for sale. "Karen and Tim are pursuing finding new ownership for the restaurant," acknowledges Brendan. "Karen is looking to retire. Tim and I have looked at putting together a new ownership group to buy out Karen's share. We want to do our best to keep the restaurant consistent with what we've done for 40 years. We hope to be here for as long as possible."