Zach Rice
from Three Monkeys
Posted: 06/4/2014


BIO:

'PLEASE THE CUSTOMERS' IS THE MOTTO OF THESE THREE MONKEYS
There's a famous image in popular culture about three monkeys seated side by side. One has his hands covering his eyes, another is covering his ears and the third covers his mouth, to the bromide of "See no evil, hear no evil, speak no evil."
In the case of Three Monkeys restaurant, however, all hands seem always to be busy at work, providing food and drink for the loyal customers of the South St. Louis establishment.
Actually, Three Monkeys derives its name from the childhood of John van Hoogstratt, the original owner of Three Monkeys Eating & Drinking Establishment, according to general manager Zach Rice.
"He had two best friends growing up," says Zach, "and their moms all called them the 'three monkeys.' Then, when they grew up their wives also referred to them as the 'three monkeys. John wanted a place where they could all hang out, and decided to call it Three Monkeys."
Three Monkeys bills itself as featuring "a distinctive menu of coastal favorites, gourmet hand-tossed pizzas, specialty sandwiches, slow-smoked ribs, authentic pastas and succulent steaks, just to name a few." So, who's responsible for all of that tasty fare?
"We really don't have an executive chef," says Zach. "We have kitchen managers, Karen Avetta is our head prep cook and I select the menus." While that menu may vary from season to season, Rice points out that "We're most known for our pizza. We make the pizza dough in house, and we use a bunch of different sauces, with specialty pastes ranging from buffalo chicken to chicken alfredo."
Other popular items with customers include the house nachos. "We have our Jungle Love Nachos, which took "Best Nachos" in The Riverfront Times last year," says Zach. "We make it with our house-fried tortilla chips, seasoned ground beef, our house-smoked barbecue pulled pork, cheddar cheese sauce, lettuce, tomato, black olive and jalapenos."
Another perennial visitor favorite is the Sunday brunch, notes Zach. "Our brunch is buffet style every Sunday from 9 a.m. to 2 p.m. We always serve the basic breakfast, but vary our lunch options. We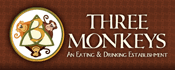 PHILOSOPHY: