Vito La Fata III
from Vito's Sicilian Pizzeria & Ristorante
Posted: 12/1/2011


BIO:

Hard Work, Family Ties Are the Keys to Vito's Original Sicilian Pizzeria & Ristorante
Vito LaFata III, owner and general manager of Vito's, says he is considered more the 'pizzialo' of the family than a chef per se. "Being the pizza chef is an honor at a great pizzeria," says Vito. "That's a term that is starting to be used more here in the States but something that has great recognition back in Sicily."
The La Fata family has a rich and notable history in the St. Louis area. "My father came to the United States and opened Pino's Pizza in Gaslight Square back in 1964," says Vito. "He made pizzas here for a long time, then went back to Sicily and married my mother, Caterina."
In 1996 the La Fata family moved down by Saint Louis University and opened Vito's Original Pizzeria & Ristorante. With the move to a new location came a new approach to their restaurant. "We started out with beer and pizza and paper plates at our first Vito's location in mid-town, which had about 13 tables," recalls Vito. "But when we opened Vito's at our current address in 2002 we focused on becoming a full-service Italian restaurant."
While Vito oversees operations as the restaurant's general manager, he shares responsibilities with his brothers Giovanni and Marco. Their sister Anna, he notes with a laugh, "bailed town years ago and moved out to Las Vegas, where she is an interior designer. She used her skills in designing our restaurant."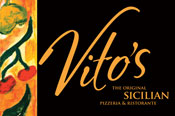 PHILOSOPHY:

Vito says that the family goes back to Sicily regularly to keep up on Sicilian food trends and tastes. "We travel to Sicily every year," he says. "Mom goes a couple of times and I go back for a couple of weeks in the summer. Mom makes most of our pasta and we make my father's pizza. In fact, we serve pizza rolls to all of our guests, which we substitute for bread. A good house bread and a marinara sauce and you can't go wrong."
La Fata says that there are certain dishes that always remain on the menu, while others change. Our customer favorites include baby arancini (Sicilian dialect word for 'little oranges'). They are golden with an orange tint, stuffed risotto balls with meat sauce, mozzarella cheese and marinara Bolognese."
The list of favorites extends into seafood as well. "We have a shrimp scampi that sells very well," says Vito, "and a linguini tutto mare with lots of seafood with shrimp and mussels." Other meat dishes that customers crave include beef spedini and "a simple" chicken picatta.
Vito, who says he's "never had another job," prefers being out in the dining room with his customers. "I'm not in the kitchen that often," he says. "I get too impatient and I get flustered by all the tickets I see in front of me. I like running the restaurant, talking with the customers and making them laugh."
The La Fatas keep up with the industry by reading articles in food magazines and talking with other restaurateurs, says Vito. They also patronize local merchants and try to include area ingredients whenever possible. "We use food from Ben's Salumme Beddu and his artisan salami shops," he says, as well as buying produce from local merchants. "Our spaghetti carbonara, for example, is prepared using artisan meat."
It's a family affair at Vito's, and that includes friendly internal squabbles when it comes to the menu. "I prefer new dishes, while Mama says that the old ones are fine," says Vito with a laugh. I push Mama to do different things, but our customers appreciate her cooking."