Cafe Provencal
from Cafe Provencal
Posted: 03/5/2014


BIO:

Café Provencal Brings the Best of Southern French Cuisine to St. Louis
Mention French food, and people may likely think of street cafes in Paris, filled with men in berets and women sipping strong coffee from tiny cups. That's not what you'll find, though, at St. Louis' signature French restaurant, Café Provencal in Kirkwood.
"Every French food is our specialty, but we focus more on southern French food as opposed to the Parisian cuisine," says John Schreiner, owner and executive chef at Café Provencal. "Most people think of Parisian food with heavy, cream sauces. Ours is more country French. In Provence they use a lot of olive oil, garlic, tomatoes and fresh vegetables, with an equal split between seafood and meats."
Provence is a region in the southeastern part of France that was the first Roman province beyond the Alps. Bordered by Italy on the east, the Rhone River on the west and the Mediterranean Sea to the south, it was ruled by the counts of Provence from the capital of Aix-en-Provence until 1481, when it was made part of France. Despite more than 500 years as a region of France, Provence still retains a distinct cultural identity.
That cultural and gastronomic independence is integral to the fare served at Café Provencal. "Our menu was a healthier alternative, I guess, at a time when it was first becoming trendy," says Schreiner. "We've never really gone away from that. We also take a different slant on Mediterranean foods."
Schreiner and his business partner, Ed Neill, opened the Kirkwood site in the Woodbine Center in 1997. Lunch and dinner are served every day except Sunday, with lunch offered from 11 a.m. to 2 p.m. and dinner available from 5 p.m. to 10 p.m.
Working in the restaurant business since he was 18, Schreiner began his career at the Restaurant de Bergerac at West Port Plaza. "It was the 1970s and Tom Marshall, who had owned Cyrano's in Clayton before that, taught me French food," says John. "From there I took a position as the corporate chef for Emerson Electric at its conference center in Winfield, Missouri. I met Ed Neill, who started the first Café Provencal in Clayton, and then in 1997 we moved to Kirkwood."
After 17 years in its Kirkwood location, cer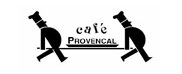 PHILOSOPHY:

Café Provencal's web site states that the restaurant offers patrons "St. Louis' most authentic French food," with "simplicity, freshness and the flavor of Provence." After 17 years of preparing the type of healthy fare prevalent in the south of France, it's a statement based on experience that continues to please a discriminating clientele. Bon appétit!