Paul Buzzetta
from Sapore Italian Cafe
Posted: 02/5/2014


BIO:

Flavor Is the Key to Sapore's Success
When your grandparents and your parents are Sicilian, paying careful attention to properly cooking Italian food comes naturally. So it has been for Paul Buzzetta, owner and executive chef of Sapore Italian Café in Kirkwood.
In fact, 'sapore' is the Italian word for flavor. As Paul points out, flavor is paramount to the popular dishes he creates regularly at Sapore. "We all kind of sat down together when opening this restaurant," he says. "We wanted to do something different. We talked about what could describe what we do and we said, 'the flavor'."
By 'we' Paul refers to his family, including his father Benedetto, who emigrated from Sicily to St. Louis and at one time operated the Sixth Street Meat Market in downtown St. Louis before starting his own restaurant, Benedetto's, in Des Peres and later in Frontenac. Also involved in the decision were Paul's mother Rosalia, also a Sicilian immigrant, and his wife Brandi.
Paul's culinary training came in large part from his grandmother, 'Nonna' Elena, a Sicilian immigrant who stressed the importance of simple cooking, where the food speaks for itself. He also worked at his parents' restaurant in a variety of jobs while getting a degree in communications from the University of Missouri-St. Louis, before attending the culinary school at St. Louis Community College-Forest Park.
After opening Sapore in 2009 at the intersection of Baxter and Manchester in West County, Paul moved to the present location in Kirkwood in November 2012. As at its previous locale, dishes are made with an emphasis on local and seasonal ingredients and a focus on Buzzetta family recipes.
"We prepare a memorable Chilean sea bass," says Paul when talking about some favorite customer dishes. "The way we prepare it is to lightly dust the top with bread crumbs topped with lemon, olive oil and garlic. We bake it and let the fish stand on its own. It's a light fish that is flaky and rich in flavor."
Another popular selection, he says, is "a stuffed tenderloin with sautéed shrimp and crab, topped with Portobello mushroom cognac sauce. And we do a seafood pasta linguine. 'Sapori de mare' means 'flavors of the sea' on our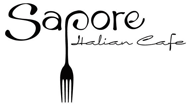 PHILOSOPHY:

As Paul notes on the restaurant's web site, "Cooking is about finding superior quality ingredients and then using the simplest form to express their flavor."
Flavor is synonymous with 'sapore,' both the Italian word and Paul's popular restaurant of the same name.