Wild Horse Grill
from Wild Horse Grill
Posted: 12/4/2013


BIO:

Exciting Changes Add to the Rich Dining Experience at Wild Horse Grill
Chesterfield has been in the news lately for the opening of not one but two competing outlet malls in the Chesterfield Valley. With its booming population, the city long has been a mecca for chain restaurants as well.
Still, some very good locally-owned restaurants, such as the Wild Horse Grill, have managed to survive in this competitive environment, creating great locally-inspired cuisine.
Along with some partners, Jim Valenta opened the Wild Horse Grill in 2000 in the Chesterfield Valley. The refined establishment, adorned with rich, dark woodwork and a handsome fireplace in the main dining area, became known for signature steak dinners. Son Tony joined Jim in 2003 and began handling the day-to-day operations about three years later.
As successful as Wild Horse Grill has been from the start, Tony spearheaded an effort about a year ago to elevate the West County restaurant another notch or so. Ray Carpenter, who formerly worked at Prime 1000 and then spent 18 months learning his craft under the guidance of Gerard Craft at Niche, was hired by Tony as executive chef.
Carpenter introduced a new dinner menu to patrons at Wild Horse Grill in July, and in November unveiled a new lunch menu as well. Assisted by sous chef Erich Emahiser, who joined Wild Horse Grill earlier in 2013, Carpenter has "augmented dishes," says Tony. "For example, our duck now comes with bacon potato asparagus hash and sherry gastrique, complementing sweet taste with the savory."
Nowadays Wild Horse Grill also builds its menu around seasonal foods grown in the St. Louis area. "We use more purveyors locally these days," says Tony, "getting our food hand-picked from local farms. We change our menu and sides seasonally. We're just now changing our dinner menu for winter and heartier dishes."
Tony and his chefs emphasize sous vide preparation for seasonings. "We cook our filets for several hours, then sear them to get them much more flavorful, cooked low and slow in a water bath and lower temperatures so that they come out very tender."
Tony says that he oversees menu execution as well as "glad-handing, bartending, grilling, you name it." He says that either he or his dad Jim are at the restaurant every day, "expediting the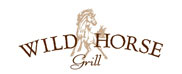 PHILOSOPHY:

Being different is important to the Valentas in all manner of details beyond food preparation. "Our tagline is 'It's about going out to dinner again,'" says Tony. "We want our customers to enjoy their entire dining experience."