Jim Edmonds
from Jim Edmonds Steakhouse
Steak Butter
Posted: 12/4/2012
INGREDIENTS:

2 oz. fresh chives, chopped
4 oz. fresh parsley, chopped
1 oz. fresh tarragon, chopped
4 oz. roasted garlic puree
1.5 tablespoon kosher salt
1.5 tablespoon ground white pepper
3 pounds unsalted butter, room temperature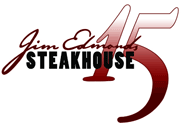 INSTRUCTIONS:

Whip butter in mixer until light and fluffy, almost white in color;
Add roasted garlic puree and salt and pepper, blend until incorporated;
Remove mixture from blender but leave in the bowl;
Gently fold in the chopped herbs;
Remove from bowl and place in container to be stored;
Melt over steaks as desired.
Cook Time: