Rich Lo Russo
from LoRusso's Cucina
Risotto With Pumpkin & Italian Sausage
Posted: 09/1/2012
INGREDIENTS:

2 tablespoons olive oil
1/2 cup diced onion
2 ribs celery stalks, diced
1 lb bulk Italian sausage
2 tablespoons chopped fresh sage
¼ teaspoon red pepper flakes (optional)
1 1/2 cups fresh pumpkin puree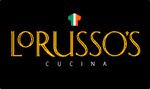 INSTRUCTIONS:

Sauté the onions and celery until soft, add the sausage. Cook until done, breaking up into small pieces, mix in the sage, and add the pumpkin.
Remove from pan (this may be done a day in advance)
In the same pan:
2 tablespoons olive oil
2 tablespoons butter
1/2 cup diced onion
Until lightly browned
Add: 1 pound Arborio rice and sauté to heat through.
Add: 1/2 cup white wine and 1 bottle of O'Fallon Pumpkin Ale and let the liquid absorb.
Prepare 6 cups chicken and mushroom stock
Lower the heat of rice and add 2-3 cups hot broth until it just covers the rice, and using a wooden spoon stir until the liquid is absorbed, continue to add broth 1 cup at a time stirring every couple of minutes.
Add powdered saffron and fresh grated cinnamon
This rice cooks in 17 to 20 minutes – so add the pumpkin mixture at about 14 to 16 minutes
When finished add 1/2 stick butter and 1/2 cup Grated Reggiano Parmesano cheese and blend until creamy.
Serve immediately - BUON APPETITO
Cook Time: