Ivy Magruder
from Vin de Set
Pan Seared Cornish Hen
Posted: 07/2/2012
INGREDIENTS:

1 Cornish Hen Half
3oz Frisee
2 oz Bacon (cooked)
7 Sourdough Croutons
1 Poached Egg
1/2 cup Sherry
1 T Butter + 1 T butter
1 Shallot (sliced)
1 clove Garlic (minced)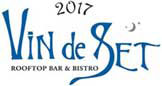 INSTRUCTIONS:

Marinate Cornish hen in (2 oz) olive oil, (0.5 oz chopped) rosemary, (0.5 oz chopped) parsley and (1oz) lemon juice overnight . Season with salt and pepper and roast off in a 400 F oven until half cooked (appox 12-15 mins). Cool.

Heat a skillet with (2oz) oil and add 1 T butter, once the butter browns, add the hen, skin side down, and place in 400 F oven. Flip over after about 4 minutes and continue to cook another 3-4 minutes until cooked all the way through. Remove Hen from pan and set aside. Add shallot and garlic and saute until shallots are cooked. Add bacon and sherry, reduce by half. Stir in butter and season with salt and pepper. Toss 3/4 of the warm sherry vinaigrette with frisee, and place on plate. Top salad with croutons and poached egg. Place hen next to salad and drizzle with remainder of vinaigrette.
Cook Time: