Jim Voss
from Duffs
Duffs Summer Fruit Cobbler
Posted: 06/6/2012
INGREDIENTS:

This recipe makes approximately eight to ten portions.

Topping:
2 cups flour
1T baking powder
2T sugar
4T cold butter, cubed
1 cup 40% cream

Filling:
9 cups mixed summer fruit (we are using 3 cups each black raspberries, tart cherries, and apricots)
¾ - 1 ½ cup sugar (we are using 1 cup for our mixture)
1/4 cup flour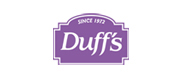 INSTRUCTIONS:

This recipe is great for any combination of fresh summer berries and/or stone fruit. You can adjust
the sugar level up or down based on the fruit you are using. The beginning of June this year has
brought a great harvest of local black raspberries and tart cherries. At the restaurant this week we are
serving a cobbler with black raspberries, cherries, and add some apricots for good measure. Just
remember not to be too fussy when picking your combination… It will turn out great. Relax and
enjoy the fruit of our great local farms!
Mix the fruit, flour, and sugar together in a large bowl and set aside. Combine all of the dry
ingredients in the bowl of a stand mixer with a paddle attachment. Add the butter slowly until the
mixture resembles coarse meal. Remove the dough from the mixer and stir in the cream by hand. Be
careful not to over mix. Pour the fruit out into a medium sized glass baking dish and top with handformed
discs of dough. Sprinkle the top with a bit of sugar and bake at 400 degrees for about 25 –
30 minutes or until the tops brown slightly. Allow an hour or two for the cobbler to cool and
thicken. Top with ice cream and enjoy!
Cook Time: