SqWires Restaurant
from SqWires Restaurant
Tom's Seafood Chowder
Posted: 02/28/2012
INGREDIENTS:

1lb bacon chopped
2 ribs of celery diced
2 white onions diced
2 tbl garlic minced
1c flour
2qts clam base stock (prepared)
3lbs total seafood (mussels, shrimp, crawfish, salmon, scallops etc.)
5 red new potatoes diced
Bass ale (bottle)
3c ½ and ½
3tbl chopped fresh parsley
1tbl chopped fresh dill
1tsp white pepper
Salt to taste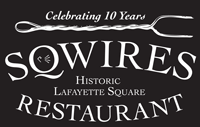 INSTRUCTIONS:

Cook all seafood separately in the clam stock. Separate and reserve stock

Render bacon until slightly crisp
Add onions, celery and garlic
Cook over medium heat until onions are clear
Add flour and stir thoroughly to make roux
Add reserved clam stock and diced potatoes
Simmer until potatoes are soft
As water evaporates add ½ bottle of beer, ½ and ½, parsley, dill, pepper and salt
Stir well

Add cooked seafood and enjoy!
Cook Time: