Vito's Sicilian Pizzeria & Ristorante
from Vito's Sicilian Pizzeria & Ristorante
Vito's Spaghetti Carbornara
Posted: 12/1/2011
INGREDIENTS:

I box Barilla brand Spaghetti
6 oz Pancetta (cut in small cubes-not too small not too big)
4 eggs
4 table spoons chopped white onion
2 table spoons butter
2 oz white wine
4 Table spoons of grated Parmigiano Reggiano
Pinch of Parsley, salt, black pepper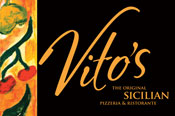 INSTRUCTIONS:

Mix, in advance in a large mixing bowl, 4 eggs along with parmigiano cheese, parsley, salt and black pepper and set aside
In a skillet add chopped onion and butter. Sautee onions on low flame until they start to turn golden. Add Pancetta and white wine and turn flame up a little. While Pancetta is cooking add spaghetti to boiling pot of water. After a couple of min Add a couple of table spoons of pasta water to skillet while cooking pancetta. Remember to stir spaghetti often while cooking.
When pasta is cooked aldente, drain then add to mixing bowl along with cooked pancetta. Mix and add additional parmigiano cheese to taste. Serve in two big entree plates and garnish with additional parsley.
Cook Time: