Eleven Eleven Mississippi
from Eleven Eleven Mississippi
Potato Wrapped Halibut W/ Lobster - Tarragon Beurre Blanc
Posted: 11/1/2011
INGREDIENTS:

4 6oz halibut fillets
1 large baking potato
salt & pepper
Lobster- Tarragon Beurre Blanc
½ cup cooked lobster meat
2 tsp tarragon, chopped
1ea shallot, minced
½ C cubed butter, room temperature
½ C white wine
1 T white wine vinegar
½ cup heavy cream
salt & pepper to taste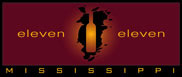 INSTRUCTIONS:

Sauce
Over medium heat reduce the shallot, white wine, vinegar & cream by half. Remove from heat. Whisk in the butter and strain. Add lobster & tarragon. Season with salt & pepper. Keep warm.
Halibut
Peel potato. Using a mandolin – slice potato paper thin –lengthwise. Lay plastic wrap onto flat surface and shingle potato 4 across and in the same pattern overlap next row of potato slices.
Center seasoned halibut on top of potatoes. Fold one half of potato onto fish using plastic wrap as a guide. Pull back plastic. Repeat with second half of potato. (This will be the side you begin to cook first)
In an oven safe skillet heat 2 oz of vegetable oil. Place the folded side down first into skillet. Pan fry for approximately 1-2 minutes or until golden brown. Carefully flip the fish over and place into a 350 degree oven for approximately 6-10 minutes or until the fish is cooked through.
Ladle lobster-tarragon beurre blanc onto a large plate. Place halibut on top of sauce and serve.
This dish serves 4
Cook Time: