Mark Adams
from Ricardo's Italian Cafe
Pappardelle With Beef Ragu
Posted: 10/5/2011
INGREDIENTS:

Pappardelle with Beef Ragù
1 1/2 pounds boneless beef chuck roast, cut into 2-inch cubes
Salt and freshly ground black pepper
1 tablespoon extra virgin olive oil
2 sprigs rosemary
2 sprigs sage
1 small red onion, peeled and cut in chunks
4 cloves garlic, finely chopped
1 carrot, peeled and thickly sliced
1 celery stalk, thickly sliced
2 cups red wine
1 28-ounce can peeled whole tomatoes
1 pound pappardelle (wide flat noodles)
3 tablespoons butter
1 tablespoon finely grated orange zest (optional)
1/2 cup freshly grated Parmigiano-Reggiano.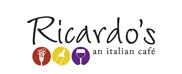 INSTRUCTIONS:

Mark Adams, Ricardo's: This is a great fall dish I enjoy serving in chilly weather.

Season beef with salt and pepper to taste. Place an oven-proof Dutch oven over medium-high heat, and add olive oil. When oil is hot, add beef. Stir until beef is well browned on all sides, about 5 minutes. Add rosemary and sage sprigs, onion, garlic, carrot and celery. Reduce heat to medium-low and sauté until vegetables are softened, about 5 minutes.
Add red wine and continue to simmer until liquid has reduced by half, about 15 minutes. Add tomatoes and their juices. In the Dutch oven, simmer, covered, in a 275-degree oven for 3 to 3 1/2 hours.
Place a large pot of lightly salted water over high heat to bring to a boil. Remove Dutch oven from oven. Using two forks, finely shred meat and vegetables. Discard herb stems. Loosely cover pan and return it to low heat to keep warm.
Add pappardelle to boiling water. As it cooks, scoop out 1/2 cup water and reserve. Cook pasta, then drain well. Return pasta to pot, and add butter and 1/4 cup Parmigiano-Reggiano; mix gently until butter has melted. Add a little reserved cooking water to loosen.
To serve, lift pasta into each of six shallow bowls. Spoon beef ragù over top. Sprinkle each bowl with a pinch of orange zest and a spoonful of cheese.
Cook Time: