Vin de Set
from Vin de Set
Bouillabaisse Recipe
Posted: 08/17/2011
INGREDIENTS:

Bouillabaisse
2 ounces swordfish
2 ounces turbot
2 ounces sole
2 ounces corvina
½ cup yellow onion, sliced
½ cup fennel, sliced
8 ounces bouillabaisse broth
3 ounces pernod
¼ cup tomatoes, diced
1 tablespoon tarragon
1 tablespoon butter
Salt and pepper to taste
1 ounce rouille
3 crostini for each bowl
In a large pan, sauté fish, onions and fennel. Deglaze with pernod. Add broth, tomatoes, tarragon, butter and salt and pepper. Boil until fish is cooked. Pour into serving bowls. Place crostini on top of bouillabaisse.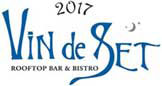 INSTRUCTIONS:

Bouillabaisse Broth
3 onions, sliced
3 heads fennel, sliced
20 roma tomatoes, roasted
1 cup orange zest
1 bottle of pernod
2 ounces saffron
4 bay leaves
4 quarts water
8 ounces of lobster stock
In a large stock pot, sauté onions and fennel until soft. Deglaze with pernod. Add tomatoes, saffron, orange zest, bay leaves, water and lobster base. Bring to a boil. Let simmer for 30 minutes.
Rouille

3 loaves of day-old bread, crust removed
Skim milk to cover
3 roasted red peppers
1 cup whole garlic
1 cup olive oil
1 tablespoon Tabasco
Salt and pepper to taste

Soak bread in milk overnight. Squeeze out milk and place bread in food processor with peppers, garlic and Tabasco. Slowly add olive oil to mixture until a smooth paste has formed.
Cook Time: