SqWires Restaurant
from SqWires Restaurant
Noodless Vegetable Lasagna
Posted: 10/1/2009
INGREDIENTS:

1# CARROTS
1.5# ZUCCHINI
1.5# YELLOW SQUASH
1# RED ONION
1 QT FRESH TOMATO SAUCE
.5# GOAT CHEESE
1/2# PARM CHEESE
T SALT
1T PEPPER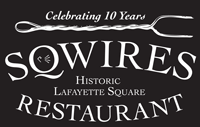 INSTRUCTIONS:

SLICE CARROTS, ZUCCHINI, SQUASH 1/8" THICK ON HARD BIAS
SLICE ONION 1/8" THICK
IN MIXING BOWL TOSS ALL VEGGIES WITH OLIVE OIL & SALT & PEPPER
GRILL ALL VEGETABLES TILL COOKED THROUGH, LET COOL 15 MIN.
IN 12" BAKING PAN PLACE 1 CUP FRESH TOMATO SAUCE & SPREAD TO COVER
BOTTOM OF PAN.

LAYER IN THIS ORDER, ZUCCHII, SQUASH, CARROTS, ONION, SPRINKLE &
SPREAD WITH 1/3 OF BOTH CHEESES. REPEAT 3 TIMES & TOP WITH
REMAINING CHEESE, BAKE AT 300 FOR 45 MINUTES, YOU MAY NEED TO COVER
WITH FOIL IF GETTING TO BROWN.
THIS IS NOT ONLY A GREAT VEGETARIAN OPTION BUT ALSO GLUETIN FREE.
**THIS IS A GREAT TIME OF YEAR FOR THIS RECIPE.....LOTS OF FRESH
VEGGIES AND HERBS!!
Cook Time: 45 Minutes