Executive Chef and General Manager, Bob Colosimo
from Eleven Eleven Mississippi
Pan Roasted Pork Tenderloin W/ Sauteed Fennel, Pancetta & Sweet Corn Risotto
Posted: 09/1/2009
INGREDIENTS:

2 pork tenderloins, about 2 pounds
2 tablespoons olive oil
2 medium ripe peaches, peeled, pitted, sliced or chopped
1 ¾ cups ketchup
2 tablespoons corn syrup or golden syrup
2 tablespoons Worcestershire sauce
1 tablespoon cider vinegar
1 teaspoon prepared mustard
2/3 cup light brown sugar, packed
dash ground cayenne pepper
dash salt
¼ teaspoon cinnamon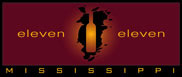 INSTRUCTIONS:

serves 4

Peach Barbecue Sauce
Combine sliced peaches, ketchup, syrup, Worcestershire sauce, vinegar,
mustard, brown sugar, cayenne and cinnamon in a medium saucepan. Bring to a
simmer over medium heat. Reduce heat to medium-low and continue simmering
for 5 to 7 minutes. Mash, blend lightly with immersion blender, or pulse a
few times in a tabletop blender. Makes about 2 to 2 1/4 cups.
Heat oven to 350°.
Rinse tenderloins and pat dry. Remove excess fat and silver skin. Sprinkle
the tenderloins all over with salt & pepper or your favorite seasoning. Heat
olive oil in a large skillet over medium-high heat. Sear the tenderloins on
all sides, about 6 to 8 minutes total.
Transfer the tenderloins to a foil lined baking pan. Transfer to the oven
and bake for about 15-20minutes (may be longer, depending on thickness of
tenderloins), or until an instant read thermometer or meat thermometer
registers 145° to 150° when inserted in the thickest part of a tenderloin.
Serve with the peach barbecue sauce.

Cook Time: