Paul Buzzetta
from Sapore Italian Cafe
Involtini Di Pollo
Posted: 02/4/2014
INGREDIENTS:

1 cup of Italian Bread crumbs
½ cup of olive oil
4 bay leaves
4 slices of prosciutto
4 thin slices of Mozzarella Cheese
4 thin slices of Fontinella Cheese
4 teaspoons of Parmesan Cheese
1 ripe tomato, diced
1 onion, sliced
1 large chicken breasts, skinned and halved
Waxed paper
1 sheet pan
Oven at 450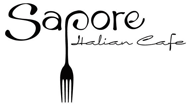 INSTRUCTIONS:

To prepare chicken:
Place each chicken breast in bread crumbs, both sides. Then place between waxed paper. Using a meat mallet, pound chicken until evenly flattened. Don't over pound or chicken will break apart. After each breast is flattened, sprinkle parmesan cheese on each of the breasts, then a slice of prosciutto, both cheeses, and finally tomatoes. Roll up each breast from a narrow end; the opposite end should remain uncovered and slightly over lap roll. Tuck in any stuffing that falls out. Toothpicks can be used if having troubles.
In a deep dish add olive oil and chicken until all sides are wet. Then place each rolled chicken in bread crumbs until well coated. Place each rolled chicken on a pre heated grill and cook 4-7 minutes per side until completely cooked. You may also finish cooking chicken in a 450⁰ oven. Place chicken on a sheet pan. Add onion and bay leaves, oil and cook until juices run clear.
Cook Time: