Harvest
from Harvest
Strawberry Shortcake With Vanilla Whipped Cream And Strawberry Ice Cre
Posted: 07/1/2009
INGREDIENTS:
Enter Ingredients Here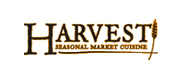 INSTRUCTIONS:

Strawberry Shortcake with Vanilla Whipped Cream
and Strawberry Ice Cream
Makes 8 biscuits, serves 8

2 Cups All Purpose Flour
½ Cup Sugar
Pinch Baking Powder
Pinch Baking Soda
1 tsp Salt
6 ounces Butter, diced and cold

Whipped Cream and Strawberry Ice Cream
Sliced strawberries, about 2 pints

In a food processor, combine all the dry ingredients. Pulse until all ingredients are incorporated.
Empty the ingredients into a large mixing bowl, and add the buttermilk around the outside of the mixture. Work the buttermilk into the dry mixture until a crude dough is formed. Remove the mixture from the bowl onto a floured surface and knead to form a consistent dough. Bake freeform or in a decorative shallow muffin tin. The biscuits will be finished after 15 minutes at 350 degrees…or until golden brown on top.

Serve warm with a sliced fresh strawberries, whipped cream, and a scoop of strawberry ice cream.
Cook Time: