Dave Bailey
from Baileys' Chocolate Bar
Hazelnut Macaroons
Posted: 11/6/2013
INGREDIENTS:

For the Macaroons:
8 egg whites
1/2 c sugar
2 tsp vanilla extract
8 oz hazelnut meal
1# powdered sugar
For the Ganache:
11 oz Dark Chocolate
1 & 1/8 c Heavy Cream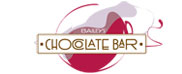 INSTRUCTIONS:

With your fingertips, rub together the hazelnut meal and powdered sugar until no clumps remain.

Beat the egg whites on medium speed until they form soft peaks, add the sugar and vanilla extract and continue beating until stiff.

Add the meal/sugar mix to the beaten whites all at once, then fold together until smooth. Scoop this mix into a pastry bag with no tip.

Pipe onto a parchment-lined sheet into dollops as wide as $1 coins. Smooth any peaks on your dollops with a wet fingertip.

Let the raw batter dollops rest 20 minutes at room temp while you preheat an oven to 275. Bake for 4 minutes, then turn the sheet and bake 4 minutes more.
Begin checking for doneness: once you can lift them without the bottom sticking to the paper they are done. Let them cool completely to room temp, then fill with chocolate ganache.
For the Ganache:
Bring the cream to a boil and remove from heat immediately, then pour over the chocolate. Wait 2 minutes, then whisk until smooth.This can be spooned or piped onto the cookies, then place a second cookie on top while ganache is warm. Store airtight in fridge or freezer, enjoy at room temp.
Cook Time: