originally comes from the Udray Arms Hotel, Newburgh, Aberdeenshire, Scotland
from Schlafly Tap Room/Bottleworks
Toffee Pudding
Posted: 10/3/2013
INGREDIENTS:

Ingredients for the pudding:
1 lb. dates, chopped in food processor
2 c. hot water
2 tsp. baking soda
5 oz. unsalted butter
1 lb. sugar
5 ea. large eggs
1 lb. all-purpose flour
2 tsp. baking powder
pinch of salt
2 tsp. vanilla extract.
Ingredients for the sauce:
1 lb. dark brown sugar
1 lb. butter
1 tsp. vanilla extract
1 c. heavy cream.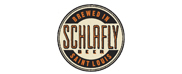 INSTRUCTIONS:

Procedure for the pudding:
Pre-heat conventional oven to 350 degrees Fahrenheit;
Grease a 9"X13" pan with butter and coat lightly with flour. Shake out excess flour;
Combine dates with hot water in a saucepan. Bring to boil;
Remove from heat and add baking soda. Set aside to cool;
In a mixing bowl cream butter and sugar on high speed for three minutes;
With mixer on low speed, add eggs one at a time until fully incorporated. Add vanilla, flour, baking powder and salt;
When fully mixed, add the dates and their liquid;
Place batter into greased pan and bake in pre-heated oven until a skewer inserted comes out clean (30 to 45 minutes);
Cool on a baking rack before removing the pan.
Procedure for the sauce:
Stir together first three ingredients on low heat, until blended and brown sugar has dissolved;
Remove from heat;
Whisk heavy cream into brown sugar and butter mixture.
To serve:
Spoon warm caramel sauce over a serving portion of sticky toffee pudding cake;
Top with a dollop of freshly whipped cream;
Eat to your heart's content!
Cook Time: