Grilled Pork Tenderloin w/ Vanilla Rum Sauce
from Vin de Set
Grilled Pork Tenderloin W/ Vanilla Rum Sauce
Posted: 08/6/2013
INGREDIENTS:

7 oz pork tenderloin
2 oz vanilla rum sauce
4 oz sweet potato puree
1 oz fried spinach
Fried Spinach
4 C canola oil
3 oz fresh spinach
In a deep-fryer set to 375 degrees, place fresh spinach in fryer basket and submerge to cook for about thirty seconds. Drain spinach on paper towels and repeat with remaining batches, set aside.
Sweet Potato Puree
1 lb sweet potato
1/4 C butter
In a large pot over high heat, add peeled and diced sweet potatoes, and boil until fork tender. Strain, add butter and puree until smooth. Add salt and pepper.
Vanilla Rum Sauce
1 C dark rum
1 each shallot, diced
1 each vanilla bean, split lengthwise
1/2 C brown sugar
1 C heavy cream
Scrape seeds from vanilla bean into heavy sauce pan; add bean. Add dark rum, brown sugar and shallot, reduce to a syrup. Add heavy cream and reduce by half, fold in butter and strain.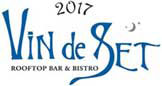 INSTRUCTIONS:

Assembly
On an oiled grill, cook trimmed pork tenderloin until desired temperature. Let rest then slice along the bias about 1/2 inch thick. Assemble by placing vanilla rum sauce on plate first. Then sweet potato puree. Fan out sliced pork tenderloin on top of puree and place fried spinach on top.
Enjoy.
Cook Time: