Bob Menendez
from Sunset 44 Bistro
Pork Tenderloin & Cranberry Ginger Chutney
Posted: 07/2/2013
INGREDIENTS:

You will need tenderloin of pork (4 oz per person) and the following ingredients for this recipe.
Marinade:
7 oz corn oil
7 oz soy sauce
22 oz burgundy wine
1/3 oz garlic powder
1/3 oz ground oregano
Cranberry Ginger Chutney:
1 ½ pounds cranberries
1 pounds brown sugar
1/2 pound dried currants
½ pound dried apricots (quarter these)
¾ teaspoon cinnamon
To taste cayenne pepper
16 oz cranberry juice
½ oz. ginger, (peeled and minced)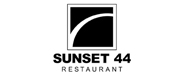 INSTRUCTIONS:

Marinade:
Mix all ingredients but oil together and then gradually whip in oil to help mixture emulsify.
Marinade meat for 10 minutes and then season by hand (salt, pepper, and garlic powder). Cook pork in the style that you prefer.
Cranberry Ginger Chutney:
Combine all ingredients in heavy saucepan. Cook over medium heat, stirring to dissolve sugar. Increase heat to high and boil for 10 minutes. Transfer to a bowl. Cool.
Can be done in advance and stored in airtight container and refrigerate.
Take the Cranberry Ginger Chutney and place it on the bottom of the plate. Then take the cooked tenderloin, slice it into medallions and decoratively place them on top of the Chutney.
Cook Time: